What it is
Instead of predicting the 3D structure of a protein sequence, often users have a solved structure and they are interested in determining if there is a related structure in a genome of interest. I have received frequent requests for this functionality and have called it "BackPhyre" to indicate how Phyre is being used in reverse.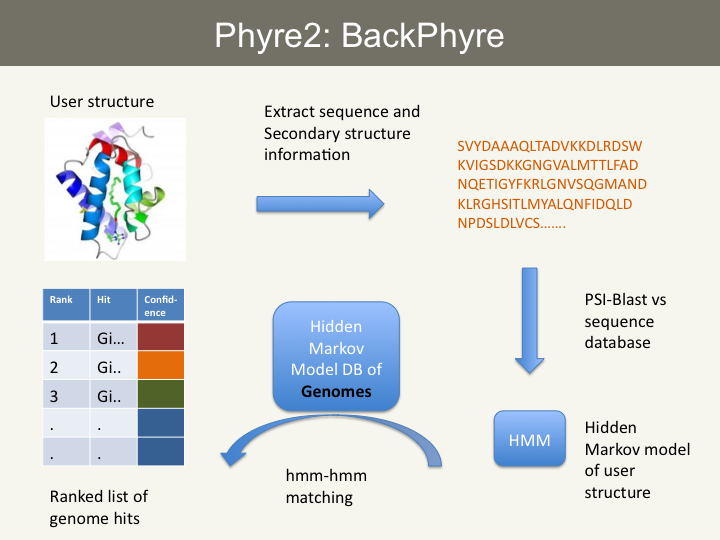 IMPORTANT: For this procedure to work, only single protein chains must be submitted. There are currently no checks performed on your uploaded structure, so please be sure to only submit one chain.
The following genomes are currently available to search
Arabidopsis_thaliana
Drosophila_melanogaster
Homo_sapiens
Mus_musculus
Plasmodium_falciparum
Saccharomyces_cerevisiae
Sulfolobus_solfataricus_P2
Thermoplasma_acidophilum
Agrobacterium_tumefaciens_C58_Cereon
Bacillus_subtilis
Bartonella_henselae_Houston-1
Corynebacterium_diphtheriae
Desulfitobacterium_hafniense_Y51
Escherichia_coli_K12
Lactobacillus_casei_ATCC_334
Neisseria_meningitidis_MC58
Pseudomonas_aeruginosa
Staphylococcus_aureus_COL
Streptococcus_pneumoniae_D39
Streptomyces_coelicolor
Synechococcus_CC9311
Yersinia_pestis_CO92

If you want to search a genome not on this list please let me know. It takes considerable computation to process a large genome for use by BackPhyre so it may take a while between you asking for a genome and getting it up and running. I will maintain a list here and on the Phyre Google Group of requests and and genomes currently being processed

Results and interpretation

Unlike ordinary Phyre results, BackPhyre does not produce a 3D model. Instead it displays a ranked list of hits from the genomes searched, and links to the alignments. See figures below.