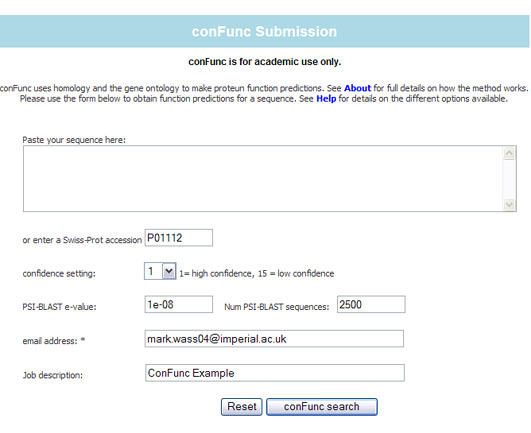 In this example:
a Swiss-Prot accession has been entered rather than pasting a sequence.
Confidence is set to 1 - so only GO terms with greatest confidence will be predicted
PSI-BLAST e-value - default has been used. Enter a different value to modify this setting.

increasing this value may result in identifying more annotated homologues for the query sequence.
reducing the value will reduce the number of sequences identified

PSI-BLAST number of homologues - set the maximum number of homologues that PSI-BLAST will return.
email address -an email address is essential so that ConFunc can inform you of progress with your job

each job is run on a computing farm system. If there are many jobs runnning then there may
be a delay in the job running.

A description is optional - so you can identify the job.
Now view a breakdown of the results for this run