view the full results page for this example: http://www.sbg.bio.ic.ac.uk/confunc/qconfunc_report.cgi?jobid=example
or work through the explanation of the results page below.
As your job runs the results page will continue to be updated. At the top of the page the status is shown.
The submission details are also printed for information as shown in the figure below.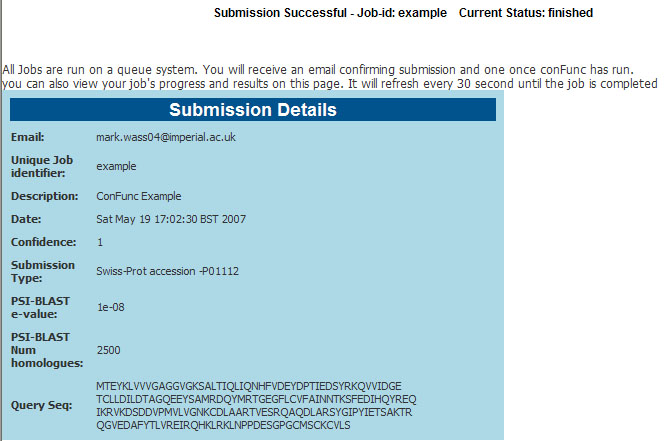 Finally on the results page the predicted and rejected GO terms are displayed. The predicted terms are shown first.
For each GO term the following are displayed:

a description of its function
its level (with Molecular function considered to be level 0)
a GO term c-value generated by ConFunc
the count - absolute number of time GO term present in set of homologues
frequency - percentage presence of GO term in set of annotated homologues
Some of the results for the example are shown below: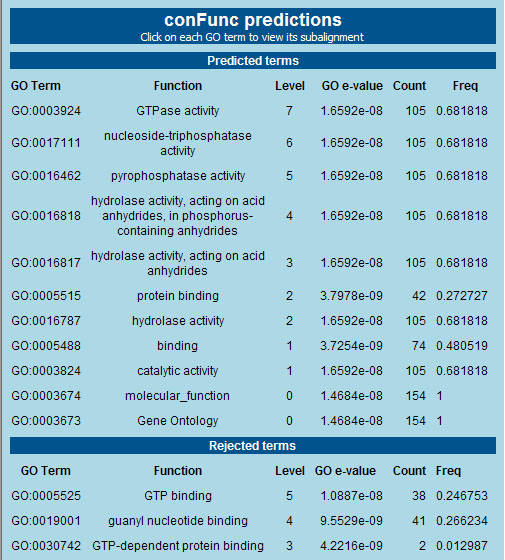 A sub-alignment is associated with each GO term. Simply click on a term is display its sub-alignment. So you would click on GO:0003924 in the above example to view its sub-alignment.

A portion of this sub-alignment is shown below.

Functional residues identified by ConFunc are coloured.
The key at the top describes the colouring scheme. The darker the colour the more conserved it is.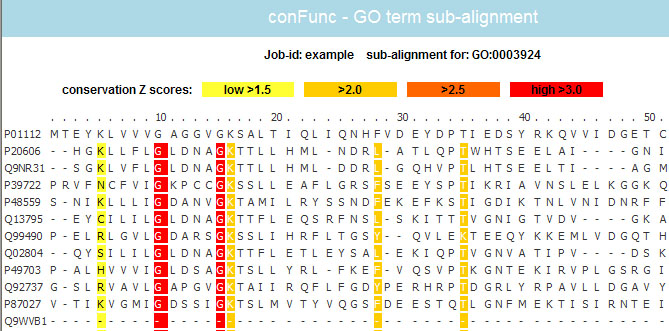 view the full results page for this example: http://www.sbg.bio.ic.ac.uk/confunc/qconfunc_report.cgi?jobid=example