Go to the EzMol start page.
The webpage requires you to upload a file containing the protein structure you wish to visualise. Such files are stored in the Protein Databank (PDB) and are called PDB files. The PDB and PDB files are discussed in the Teaching Portal. You can (1) upload a PDB file from your computer, (2) upload an EZM file containing a previous EzMol session or (3) use a unique PDB ID code to retrieve a PDB file from the databank. The figures in this activity were generated using the antibody (an immunoglobulin G2a) in PDB 1IGT.

Antibodies
The protein used as an example here is an antibody, a protein that recognises foreign elements in our bodies. The RCSB PDB published a short introduction to antibodies and their structure as part of its Molecule of the Month, available here.
Moving the protein
On the left of the screen is a white square containing the protein (Figure 2). As you explore EzMol, this square will remain present and allow you to visualise the protein. You can rotate the protein by left-clicking and dragging it within the visualiser, or by using the options in square (1) (right panel). You can zoom in and out using the right click (and dragging the protein) or square (2) (middle panel) and you can drag the protein by clicking with the wheel of the mouse or square (3) (left panel).
You can turn on and off a rocking or rolling motion by clicking the corresponding buttons. The 'Enlarge' and 'Shrink' buttons change the size of the visualiser. You can always go back to the default view by clicking 'Reset camera'.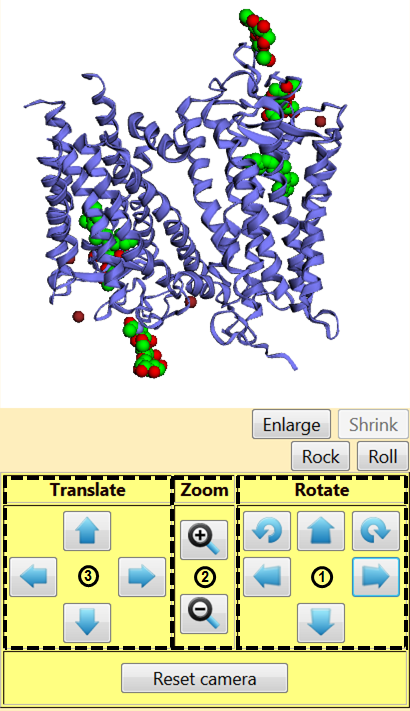 EzMol provides you with some information about the structure you are viewing, including the name of the structure, its PDB ID and the date it was deposited into the PDB.
The tab 'More details' provides you with extra information, including the number of chains and residues, the organism the molecule is from, the experimental techniques used to solve the structure, the resolution, the molecular weight of the molecule and the people who published the structure.
To move to the other steps in the EzMol workflow, use the top navigation bar shown in Figure 3 below.