Proteins are made up of polypeptide chains, i.e. polymers of amino acids joined together. The structure of a protein can be studied at four different levels.
Primary structure
⇒ The primary structure of a protein is the sequence of the amino acids that constitute it.
Because of the nature of the peptide bond (cf. above), the backbone of a polypeptide will have a single primary amine at one end and a single carboxylic acid at the other end (at they do not take part in a peptide bond). Those ends are called the N-terminus (primary amine) and the C-terminus (carboxylic acid). The sequence of a polypeptide is always read from the N-terminus to the C-terminus (Figure 4).

Secondary structure
The peptide bond between two residues is a single bond, but it is said to have a semi double-bond character. This means that it is particularly rigid for a single bond, forming a planar structure called the amide plane, as shown in Figure 5.

The angles between subsequent amide planes in a polypeptide are called torsion angles. They can only adopt certain values, and those values impose certain conformations (or folds) on the backbone.
⇒ The secondary structure of a protein is the local fold of the protein backbone.
Some of those local folds form precise, regular structures, often stabilised by hydrogen bonds. The two most common examples of secondary structure elements are α-helices and β-sheets.
In an α-helix, the polypeptide chain forms a right-handed helical structure with 3.6 residues per turn (Figure 6). The helix is stabilised by hydrogen bonds between the backbone N–H of each residue and the backbone C=O of the amino acid four residues earlier in the sequence. The core of the helix is tightly packed and all the side chains project outward.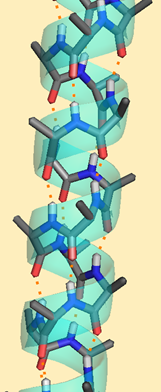 β-sheets are the other most common type of secondary structure element, shown in Figure 7. They are also stabilised by hydrogen bonds, but between different chains, whereas in an α-helix, the hydrogen bonds are all within the same helix. Similarly to α-helices however, the hydrogen bonds stabilising β-sheets are between backbone N–H and C=O groups.
Proteins also often contain regions of non-repetitive secondary structure. Those regions are called coils or loops. Although they are not as regular as α-helices or β-sheets, those regions still have a defined structure and should not be confused with the term random coil, which is used to describe a protein that has lost its secondary structure (the protein is then said to be denatured).
Some amino acids play a specific role in protein secondary structure. For instance, glycine does not have a side chain (it simply has two hydrogen atoms attached to its Cα) and is therefore able to adopt many more folds than other residues. Proline, on the other hand, has a side chain covalently attached to its backbone nitrogen, which means that it cannot adopt as many conformations as other amino acids, and often disrupts secondary structure elements or introduces kinks in α-helices.
Tertiary structure
⇒ The tertiary structure of a protein is its overall 3D arrangement: the folding of secondary structure elements and the position of side chains.
The hydrophobic effect is responsible for most of the tertiary structure of a protein: it is energetically favourable for the protein to fold and bury its hydrophobic residues within its core, away from the surrounding water.
Other bonds and interactions also help the protein fold into the correct tertiary structure. Disulphide bonds are covalent bonds between the sulphur atoms of two cysteine residues. Salt bridges are electrostatic interactions between a negatively charged side chain and a positively charged one. Hydrogen bonds and van der Waals interactions (between hydrophobic residues) are also involved in the tertiary structure. All those forces, interactions and bonds are shown in Figure 8.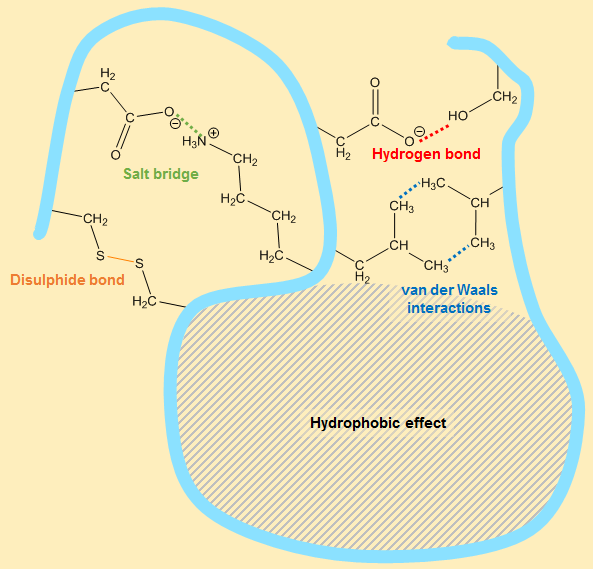 Quaternary structure
Some proteins are made up of several polypeptide chains, which assemble once they have adopted their individual tertiary structures. The polypeptide chains may be identical or not: haemoglobin, for instance, has two copies of the same chain and two copies of another, different chain. Antibodies also contain four chains: two heavy chains and two light chains, as shown in Figure 9.
Some proteins are also covalently attached to a non-protein element, e.g. the haem cofactor in haemoglobin (cf. worksheet on haemoglobin).
⇒ The quaternary structure of a protein is the assembly of several polypeptide chains, and sometimes the addition of a non-protein element, to form a functional protein.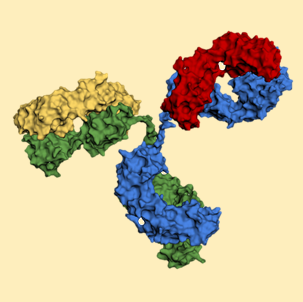 The same forces, bonds and interactions responsible for tertiary structure may be involved in holding different polypeptide chains together.